Oplotnica, once known as the White Town, is a treasury of unique natural and cultural experiences. Oplotnica Gorge and chizlakite rock are just the tip of its wealth.
Oplotnica is a small town that is highly connected with the wine-growing and agricultural countryside and is a treasury of unique natural and cultural experiences. Statues of Pagan gods Jupiter and Mithra testify of the former extensive White Town which sank, according to the locals.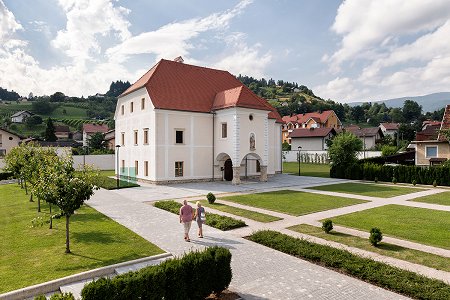 The legacy of the Carthusians and the remains of the Middle Ages
Oplotnica Mansion is also called the Žiče Manor, as it was previously owned by the monks of the Žiče Charterhouse. The beautiful building next to a small park and an old laundry is a monument with some of the most beautiful specimen of the Baroque stucco far and beyond. Also the foundation of the extraordinary Church of St. John the Baptist is associated with the Carthusians, based on the time it was built and its name. An authentic image of the Middle Ages is presented by the open-fire »black« kitchen at Church of St. Barbara.

Sawmills and Gorges: Oplotnica Gorge
Luxurious water sources, especially the wild Oplotnica stream, have amidst the low-lying Pohorje forest, which boasts with growing numbers of deciduous oaks and beeches and exquisite wood treasures, carved a narrow gorge into the rock and were running at least 30 sawmills and mills, the last of which stopped operating only in the 1990s of the previous century. A strong connection with nature is expressed by the people of Oplotnica as they still continue to walk into the gorge today. However, nowadays they are looking for relaxation and experiences for children. They set up the Educational Trail of Oplotnica Gorge.

Rich indigenous chizlakite rock
Ceslak is a special feature of Oplotnica - a small place that would be nothing special if it were not for the rock that cannot be found anywhere else in the world; the magmatic plutonic rock of the greenishly shimmering chizlakite, which is related to tonalite and granite.