Vitanje is adorned by the Old Square, far from the crowds, but not far away. Most people visit it because of the Noordung Center's space experiences, although it offers much more.
Vitanje - so different and far away from the hustle and bustle, silent, hearty, once almost forgotten. Not far away, say the locals. It was put in the spotlight again when in the middle of the Old Vitanje Square centre an unusual object, resembling a spaceship was built, the Noordung Center.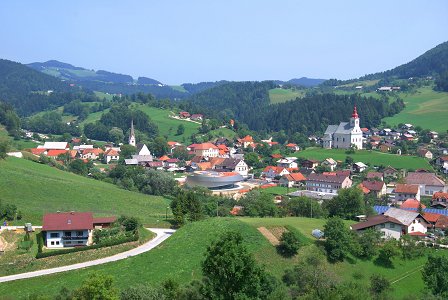 A place of space explorations
Vitanje with the Noordung Center offers virtual reality, simulators and projections with a new, refreshing view into the infinity of the space and the human work in it. The center is named after Herman Potočnik Noordung, a futurist, rocket engineer and pioneer of astronautics and cosmonautics whose roots are from Vitanje.

A space of historic twins
Interestingly, there is a certain duality of important historical points here. Carved in the rock high above the town we can see the two castles, the Old Castle and the New Castle. There are also two town churches, and they represent a unique example of a duet, both equally constitute a single parish, the Church of Holy Mother of God on Hriberca is a summer church, the Church of St. Peter and Paul in Vitanje is a winter church. The one and only, Beškovnik's Granary, an ancient homestead takes you back to a different time.
The starting point of excellent hiking trips
Vitanje is located in a divine spot between Vitanje Karavanke and Pohorje, opening the paths into endless nature. Experience the slopes of the Karavanke Mountains and ethnological paintings in Paški Kozjak, and feel the Pohorje as you arrive from the Vitanje's side through the fresh coniferous forest to the popular Rogla.