The Diagnostic and Rehabilitation Center of Terme Zreče Spa engages the healing powers of three exceptional natural healing characteristics – the Acratothermal Water, Pohorje Peat and Mountain Highland Healing Climate.
Did you know that more than 11,000 patients are rehabilitated and more than 380,000 interventions are made in one year?
The number of people who trust the doctors of Terme Zreče Spa is certainly affected by the fact that they have acquired the American Accreditation Commission International Standards for Healthcare Organizations (AACI). This proves the increased quality and safety of medical treatments for patients, the most modern medical rehabilitation equipment, highly qualified experts and also excellent cooperation of health workers in Terme Zreče Spa. The satisfaction of employees also influences a pleasant smile, which positively affects the patients.
A wide range of therapies
The treatment programmes and rehabilitation procedures include all standard physiotherapy
procedures, such as kinesiotherapy, hydrotherapy, electrotherapy, mechanotherapy and thermotherapy. In addition to the standard procedures, special attention is dedicated to the
development of professional specialties, such as:
• Trigger Therapy: to reduce pain and improve coordination and the level of flexibility.
• Neuromuscular Tapping: for injuries, swollen joints and feeling of instability in joints.
• Proprioceptive Therapy
• Bowen Therapy: a gentle manual technique for relieving a wide range of body aches, also suitable for the elderly and newborns.
• Bobath Therapy: for recovery after stroke, neurological diseases and children with developmental disorders.
• Radial Shock Wave Therapy: against the accumulation of calcium in shoulders, hips or elbows.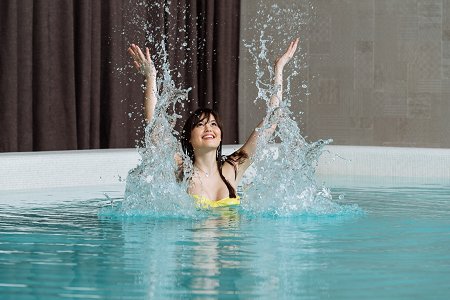 Nature also invents medications of its own
The healing characteristics which nature gifts us should be successfully taken advantage of. In Terme Zreče Spa, they are used in various treatments of injuries and diseases of limbs, operations of backbone diseases, sport injuries and reconstructive surgical procedures on limbs, degenerative and inflammatory diseases of limbs, diseases of peripheral nervous system and gynecological and oncological operations.