SKI or SPA? Or both?
Two Pohorje gems, Rogla and Terme Zreče Spa, form together an unprecedented Slovenian combination of skiing paradise and warm thermal luxury.
Only rarely in the world does nature offer as much as there is in one tiny piece of the world right under Pohorje. Terme Zreče Spa and Rogla are tourist centers that work hand in hand and thus offer guests a unique world of skiing, sledding, snowshoeing and other snowy adventures on the one hand – on Rogla, and on the other - in Terme Zreče Spa, almost shameful indulgence in thermal wells, authentic and nowhere else to be seen Sauna Village and the soothing Wellness Idyll, which seeks inspiration for the relaxation of its guests in Pohorje nature.
CAN YOU IMAGINE WHAT A SKI & SPA DAY LOOKS LIKE?
FIRST SKI
You start it almost tacky - in a warm, cosy bed at Terme Zreče Spa, while a hearty breakfast with fragrant coffee is already waiting for you in the dining room. Having conveniently stored your ski equipment at the hotel the day before, you just pick it up and set off for a pleasant 20-minute ride down the freshly cleared road to Rogla. You can also take a free ski bus you can get off right in front of the ski slope. Then what? The snow ribs that promise an exciting skiing day. Every true skier knows the excitement of the snow turns along the freshly prepared ski slopes on the slopes of Pohorje, when the view does not end between the tall spruces covered with idyllic crystallized cold. Rogla is the ski queen, attracting more than 200,000 skiers each winter.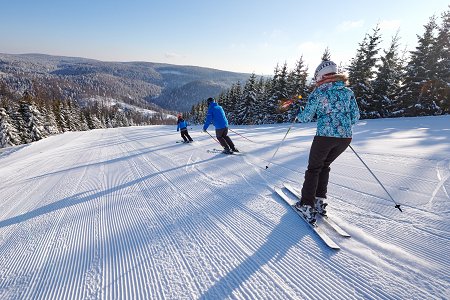 A tip: If you have a physical pain that prevents you from sporting activities in the snow, visit the internationally accredited Terme Zreče Spa. Highly qualified Medico Center staff at Terme Zreče Spa eliminates pain with a great deal of knowledge and the help of natural healing factors.
THEN SPA
A return from Rogla to the Terme Zreče Spa, dedicated to pampering, will do good to the warmed and worked up muscles. The soothing thermal water has an exceptionally beneficial effect on the decomposition of lactic acid and the relaxation of muscle tissue, not to mention the mental calming. The Sauna Village, a real village, imitating its authentic Pohorje environment, will remove stress and toxins from your body. Its floor is made of Pohorje granite stone, and the sauna smells of wood and herbs from nature. Indulge in winter sauna programmes with the peeling and air swirlings. Don't forget an excellent dinner at the Atrium Restaurant A La Carte, then have a massage with bundles of Pohorje herbs at Wellness Idylla before going to bed.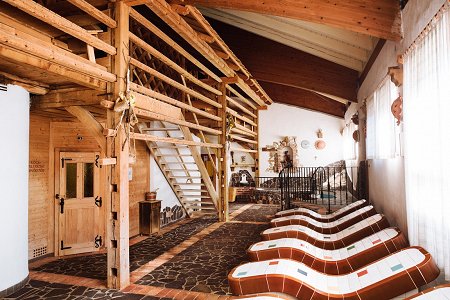 CHILDREN ON ROGLA AND TERME ZREČE SPA NEVER GET BORED
The great news is that it is impossible for children to get bored on Pohorje. Splashing in the pools, even in the children's splashing pool, is fun on its own, and all around the spa you can find picturesque nature. Use it for walks around the lake and along the Heart's Educational Trail. Children who ski will enjoy themselves on the routes suitable for them, on the rainbow strip and in the Children's Snow Park. During the resting time they will explore the snow-capped Pohorje village with didactic games and will have fun with the animators. If you don't ski, go sledding (even at night time on the rainbow strip) or go snowshoeing in the beautiful nature.
DID YOU KNOW?
• Rogla has been twice recognized by the readers of the Slovenian Reader's Digest magazine and the general Slovenian population as the most trusted brand among all ski resorts in Slovenia. Thus, it received the prestigious title Trusted Brand.
• The Planja and Rogla hotels are conveniently connected to each other as well as to the restaurant, gym and ski service. They are located mere 50 meters from the ski slope, so they offer very comfortable holidays. The Rogla Hotel has recently been completely renovated.
ROGLA'S CALENDAR
18th January 2020: World Cup in Parallel Giant Slalom in Snowboarding
19th January 2020: World Day of Snow
11th March 2020: European Cup in Parallel Giant Slalom in Snowboarding
12th March 2020: European Cup in Parallel Giant Slalom in Snowboarding
18th–22nd March 2020: Freestyle Week
For more information visit: www.rogla.eu or www.terme-zrece.eu .