Branka, tell us how your story began and what your guests can experience here?
I decided to go on this path relatively late and quite quickly. Simply, at a certain point some ideas and desires came together as a whole. I am lucky to live in a beautiful 160-year-old building that is also spacious enough to allow us to share our home with guests. I am proud of my work and I enjoy it. It is my way of life. I try to connect tradition with modern knowledge of making my own products and preparing dishes. Our guests quickly become a part of our lives, following my work in the kitchen and in the garden. I completely adapt to their wishes. Life with us is in perfect rhythm with nature and the current season – we offer peace, kindness and a simple way of life.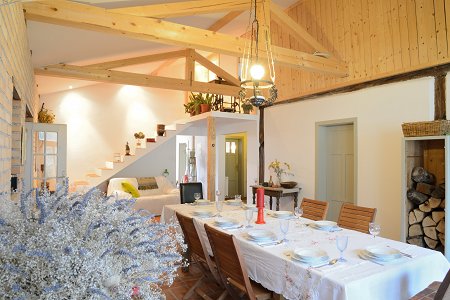 What makes you happiest in your work and lifestyle? What gives you inspiration for new ideas and projects? And what are your plans for the future?
I immensely appreciate nature and the environment I live in. I share my love for everything that has a history with my guests. From the recipes, the dishes, to the plates on which I serve the food… Most of the time, I find inspiration for dishes just from walking around the garden. When I meet a guest in the morning and see how happy they are looking at the table, I know I am on the right path. I look forward to visits from countryside lovers, lovers of healthy and good food and people with a passion for the history and culture of our region.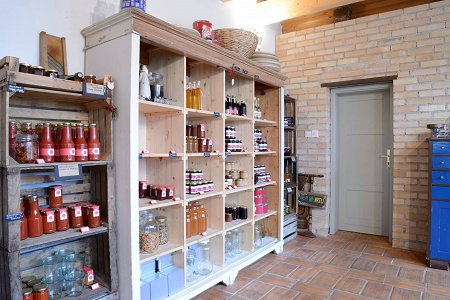 Your culinary experiences are always something special. Dishes made from local and seasonal ingredients … What recipe will you share with readers and for what occasions do you recommend it?
What we offer is completely tied to the season and the environment in which we live – what is currently in the garden or what fruit has just ripened. I try to use everything – from the early spring shoots of winter vegetables to flowers and wild plants. For this purpose, I always have some pie dough in the fridge. This dough is very versatile, you can very easily prepare a vegetable dish or a dessert. The base is dough. You can use any quickly fried vegetable you like or any fruit currently in season.
---
PIE RECIPE
DOUGH:
380 g of flour (can be white, wholemeal, spelt…)
230 g of butter
a pinch of salt and a little more than a pinch of sugar
1 egg
if necessary 1 tablespoon of cold water
FILLING:
berries as desired (enough to cover the bottom)
250 ml whipping or double cream
3 egg yolks
280 g of egg whites
220 g of sugar
METHOD:
Put the flour in a bowl and add small chunks of very cold butter. Do not knead the dough, just quickly rub the butter with your fingers. Add a lightly beaten egg and quickly form a loaf (if necessary, add a little cold water). Roll out into a circle with a diameter of 26 cm, line a butter-greased pie tin. Leave in the fridge for at least half an hour (the dough can also be frozen, thawed in the fridge before preparation).
Stir the yolks into the whipping/ double cream, sweeten the fruit a little if necessary and pour over the mixture. Bake for 40 min. /175°C. Beat the egg whites with the sugar until nice and shiny. Take the pie out of the oven, reduce the temperature to 140°C, coat the fruit with beaten egg whites and, if desired, shape with a spoon. Bake in the oven so that the meringue turns a nice light brown and caramelises.