Every real skier is familiar with the feeling of excitement and anticipation before making those first carves through the snow in the season. However, you should start somewhere and the Rogla ski resort pays attention to the well-being of families, especially to the youngest family members. As a family-friendly ski resort, it made sure to upgrade its offer for children this winter. Check all the new adventures it has in store for you!
A family-friendly ski resort puts children first
The children's snow park next to the Uniorček ski slope has gained a new, 90-metre long covered conveyor belt that will make skiing an even more enjoyable activity for the little rascals. And as night descends Uniorček offers an evening sledding party (on Fridays and Saturdays during the night skiing between 5 and 9 PM).
The Pohorje Village has become a favorite place for family time together not only in summer but also in winter. In winter, from Friday to Sunday and during holidays, the snowy Pohorje Village next to the Uniorček ski slope offers many guided activities.
Do not forget to pay a visit to the Zlodej's Cottage with animators and the Mini Rogla with a cute presentation of tourism for children.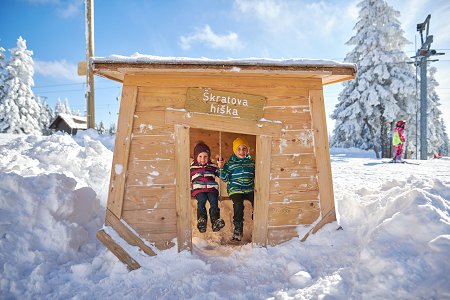 Do you know why Rogla is a skiers' paradise?
Skiers have long known the heavenly feeling of floating down the snowy Rogla slopes, either on a blindingly sunny day or under a carpet of stars, the wild excitement of putting on cross-country skis and head into the spruce forest. However, not everybody knows – but should - every week from Thursday to Saturday, the Uniorček bar is the place to be for an apresski parties. Indulge in a Pohorje-style aperitif, dance in ski boots and enjoy good music played by a local DJ either to top off your ride of the day or before heading out to ski the night away.
Winter activities that did not cross your mind
For all who crave something different: huskies with a dog sled await at the tiny lake on the top of Rogla to take you into the fairytale winter adventure. And a tip for all the hikers: hiking is a spectacular sport also in winter. If the night catches you unawares you can light a torch and enjoy a fire-lit, romantic walk.
You can also take a wild ride through the wooded part of Rogla at the Zlodejevo Adrenaline toboggan run. Certainly, this year, the amazing hit is Treetop Walk Pohorje from which you can see the sleeping nature of Pohorje for the first time. The 1043-meter-long walkway up to 20 meters high will offer you a breath-taking view of the Pohorje forest and distant mountains from the 37-meter-high tower. The walkway is also accessible by wheelchairs and prams.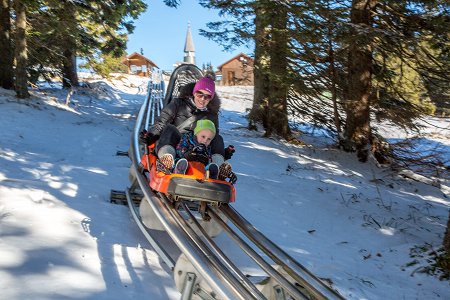 Enjoy your meal!
Pohorje is renowned for its heart-felt hospitality and the fact that no one can leave the table with an empty stomach. A unique feature of these parts is definitely the Tastes of Rogla brand (Okusi Rogle) that preserves the culinary tradition of Rogla and Pohorje area. It brings together authentic culinary elements passed down through generations and infuses them with a modern and healthy touch. You will be hard-pressed to leave Rogla without tasting one of the most typical local dishes – the Pohorje stew. The recipe of the kitchen chef at Rogla has been a secret for many years, whereas nowadays you can taste it in practically every restaurant on Pohorje. You can also explore other Tastes of Rogla specialities: Pohorje Bunka ham, mushroom soup, cooked beef with sautéd potatoes, the Pohorje selection of meat from the slaughter (sausages and roast), grilled lamb (the noble and odourless Pohorje sheep), venison goulash (game from the idyllic Pohorje village of Skomarje), venison steak with cranberry sauce and rolled dumplings (from homemade, fresh cottage cheese from green pastures, baked in a clay pan).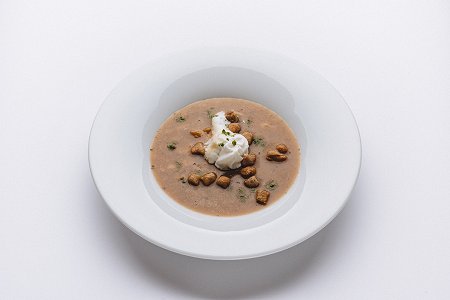 Rok Marguč, world-class snowboarder:
"For many years, Rogla has been practically my second home not only in winter but
also in summer. Regardless of how much time I spend here, I'm always surprised by new and different ideas that keep the offer fresh and exciting. I always loved to visit Rogla but now when I'm a dad to a little girl, I come back even more often because she really enjoys her time at Rogla. She's my daughter, after all!"
Rogla is therefore not only a heaven for skiers but has something to offer to everyone.
It is true that the long and steep slopes of Jurgovo skislope or the popular ski and snowboard park of Mašinžaga are the most thrilling for experienced skiers. But there are many opportunities for adventure also for cross-country skiers, skiers beginners, nature and animal lovers, wellness enthusiasts and, most importantly, our children who absolutely love it. See you this winter at Rogla.